Go Eat Pez!

Hi. Welcome to my page! I have been collecting PEZ for around 6 months. I have around 150 dispensers that are either MOC,in bag, or loose(look at them in my new collection section!) Not to mention ad sheets,other paper items,old packs of candy, or anything made with the word PEZ on it. So sit back and relax while you stroll through my page. Feel free to e-mail me any questions,comments,or if you are just up for a good chat.


Brian- ENJOY THE PAGE!!!
E-mail Count Pezcula

Leave me a message at my tripod answering machine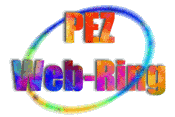 Click for the
[Previous] [Random] [Next Site]
[Skip Next] [Next 5]
site in the PEZring.
Click here for info on how to join the PEZ Web Ring.
Disclaimer
This Page is not affiliated with PEZ® Candy Inc. PEZ® is a registered trademark of PEZ® Candy Inc. of Orange,Connecticut
Where do you want to go?